Iceman.kz in cooperation with aOrion and Quas have conducted trials of aOrion Heli E Unmanned Aerial Vehicle (UAV) in the Gulf of Finland in March 2019. Iceman has planned the flights to identify specific ice features for further ice charting purposes and monitored weather to maintain window of opportunity with suitable conditions for operations. aOrion together with Quas organized and conducted the flights.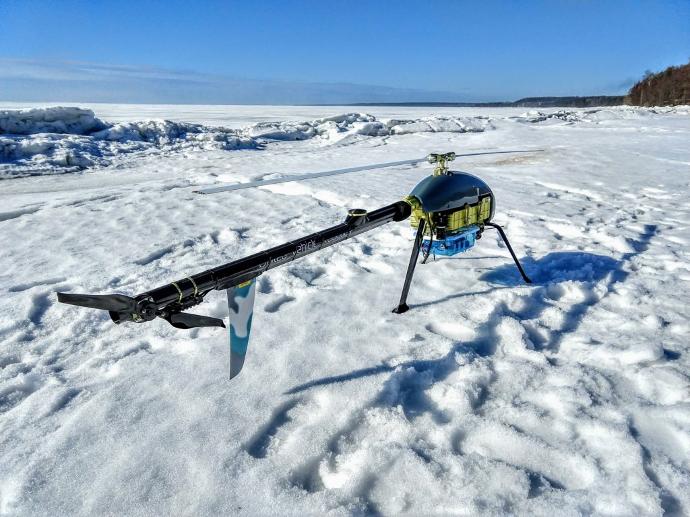 Heli E is a fully Autonomous Aerial Vehicle with electric powered engine. High quality lithium batteries provide sufficient operations time to conduct medium range recce missions for ice charting and fieldwork. aOrion Helicopter E hull is made of aluminum alloy and composite materials making her light to carry significant payload of instruments.

Data that was acquired during the trials is used by aOrion and Iceman.kz developers to integrate Computer Vision technologies for fast processing of video signals aboard UAV on the fly. This way operators are provided with detailed analysis of ice cover almost immediately allowing to make decisions and build insights almost immediately. Ice charting and risk analysis to operations (both marine operations and safety of offshore structures) are enhanced significantly with this data.
Engineering applications of applying computer vision to process video from UAV confirmed significant reduction of costs for fieldwork and processing time to acquire regional knowledge of ice cover roughness (pressure ridge sail heights and stamukhi morphology).

Following this activity Iceman.kz adds UAV applications in ice charting to portfolio of services we provide. Heli E along with other drones are available for operations in Kazakhstan. With aOrion providing the hardware and Quas organizing and operating flights the service is designed to be the most comfortable solution for our Clients.